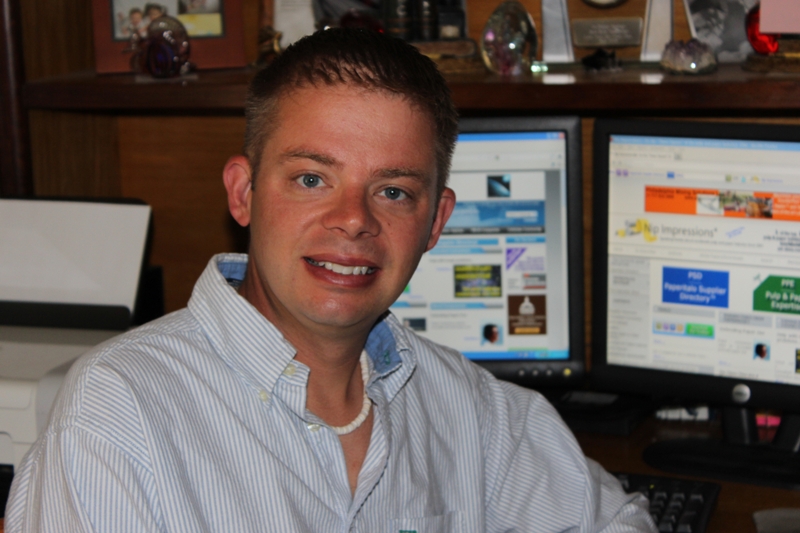 Ladies and gentlemen, the first class of inductees to the Paper Industry International Hall of Fame in Appleton, Wisconsin was inducted more than two decades ago in 1995, and today, more than 139 papermaking innovators and legends have been enshrined. This month, we profile the late Frank Sensenbrenner, who was inducted into the Hall of Fame in 1998.
Frank J. Sensenbrenner was born in Menasha, Wisconsin, on December 23, 1864. He was educated through the eighth grade in public and parochial schools. His first job was as a grocery store clerk in 1878, followed by a postal clerk in the Menasha Post Office in 1879. Between 1880 and 1884, Mr. Sensenbrenner worked as a bookkeeper for the Menasha Chair Company, and then for John Strange Lumber and Saw Mill until 1888, when he joined Webster Manufacturing Company. In 1889 he went to work for Kimberly-Clark & Company, again as a bookkeeper.
When the firm was reorganized in 1907, Mr. Sensenbrenner became a stockholder and rose successively through the ranks to president and chief executive officer of the corporation, a position he held from 1928 to 1942. Although John A. Kimberly retained the title of president until his death in 1928, Mr. Sensenbrenner, as first vice president, actually ran the company through the teens and most of the '20s, until he was officially elected president in 1928. He was chairman of the board until 1944 and remained a director until 1952.
Under Mr. Sensenbrenner's leadership, Kimberly-Clark grew from a small company to a multi-state and Canadian operation. In 1907, the company acquired the assets of the Atlas Paper Company and the Tellulah Company in Appleton, Wisconsin. Two years later, K-C and William Bonifas organized Bonifas Lumber Company in the Upper Peninsula of Michigan and purchased large stands of hemlock and spruce. In 1912, K-C acquired Bonifas Lumber.
In 1915, the Globe Mill, Neenah, was rebuilt, terminating K-C's production of newsprint in reaction to a 1911 U.S.-Canadian treaty that allowed Canada to ship newsprint into the United States duty free. The rebuilt mill began producing Cellucotton, K-C's trade-marked name for absorbent wadding used as a substitute for cotton surgical dressings.
In the same year, a pulp mill was built at Kimberly, Wisconsin, to make refined bleached groundwood and double the capacity of the electrolytic chlorine and caustic soda plant already there. After these changes, the Kimberly mill began using sulfite and bleached groundwood pulp to make bookpapers - the first mill in the U.S. to utilize this type of furnish. For a period of years, almost all rotogravure printing in the U.S. was done on groundwood paper from K-C's Kimberly and Niagara, New York, mills.
In 1920, K-C marketed its first consumer product, Kotex feminine pads, through the International Cellucotton Products Company. Four years later, the company began to market Kleenex facial tissue. K-C was the first to market these unique products. K-C stayed the course when initial sales were disappointing due to social taboos and retail resistance. The company allotted unusually high levels of advertising money, for that time, to make each product a byword in the industry.
In partnership with the New York Times, Spruce Falls Power and Paper Company Ltd., Kapuskasing, Ontario, Canada, was formed in 1928 at a cost of $16 million. K-C owned 51 percent, and the newspaper owned 49 percent. By 1930, the mill was producing 650 tons of newsprint for the New York Times and 17 other newspapers. A sulfite pulp mill, which produced 150 tons per day, and a 75,000 horsepower hydroelectric plant also began production. A planned community was then built around the complex.
In 1929, the Lakeview Mill, Neenah, WI, was purchased from Sears, Roebuck & Co. to produce school and specialty papers. During the Depression years, 1930 - 1935, K-C grew from 2,836 employees (excluding Spruce Falls) to 4,067, while sales fell only 7 percent from $21.8 million in 1929 to $20.3 million in 1935. Lower prices were responsible for the reduction, although at the Atlas Mill, Appleton, the number of tons shipped increased. During this time, the production of wallpaper was improved through four-color rotogravure printing, washable surface, and register embossing.
Between 1942 and 1944, the Ordnance Division of Kimberly-Clark, located in the Kimlark plant, Neenah, WI, assembled M-45 automatic antiaircraft guns utilizing 2,000 parts from subcontractors in five states. The U.S. Army's production schedule was met or exceeded each month, and the only gun returned for repairs was one that fell from an Army truck during a parade. Also in 1944, the Ordnance Division began a contract to assemble the M48A2 point detonating fuse. An Army-Navy E was awarded to K-C in June 1944 in recognition of K-C's production record.
Mr. Sensenbrenner was one of the founders of the Wisconsin Manufacturers Association and was a director from 1911 to 1945. Education was of particular importance to him: he was a trustee of Lawrence University; member, Board of Governors, Marquette University; member, Lay Advisory Board, St. Norbert College; president and member, Board of Regents, University of Wisconsin-Madison.
Mr. Sensenbrenner's contributions to the paper industry were widely recognized; in addition, he received many awards for his contributions to civic and educational organizations. He received honorary doctor of law degrees from Marquette University, St. Norbert College, and the University of Wisconsin. He was made a Knight Commander of the order of St. Gregory for distinguished service to church and state by The Vatican; and was recognized for work in human relations by the National Conference of Jews and Christians, Wisconsin Region. He received an award for distinguished service as a resident of a state in the Northwest Territory, Northwestern University; and in 1960, he was inducted into the Wisconsin Industrial Hall of Fame.
Mr. Sensenbrenner and his wife, Margaret, who died in 1912, had four children, John, Gertrude (Bergstrom), Margaret (Gilbert), and J. Leslie. Throughout his life, F. J. Sensenbrenner lived in Neenah or Menasha, WI.
Steve Roush is Vice President, Publisher and Editor and in charge of the International Desk at Paperitalo Publications. Many thanks go to the Paper Industry International Hall of Fame, Inc., for biographical information on Hall of Fame inductees.