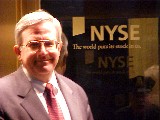 I have argued for a long time that pulp and paper pricing is a "black art." There has been some improvement in the last decade or so, but there is still a great deal of fuzziness to pricing. The recycled wastepaper grades, inputs to many processes now, have been downright cloak and dagger, despite publications purporting otherwise.
Well, it is about to become even more translucent. As we discussed in the Xpert Panel on Pulp and Paper Radio International on Monday Morning, 3 Jun 13 the US dollar is rapidly losing its reserve status. In other words, pulp producers, for instance, are going to be selling Brazilian eucalyptus to China in Yuan, not bothering to convert the pricing to US dollars. The same will be true for other markets, such as New Zealand, too. Soon, we won't have any idea what our international markets selling prices might be.
Enter bitcoin. If you are not familiar with bitcoin and others of its ilk, these are currencies popping up around the world that are nothing but digital collections of currency that have no distinct sovereign ownership. They are made up, just like all currency is made up. They can be bought in any currency and used to buy anything from anyone who will recognize them. They are the Wild West right now, and it may be possible that they will stay that way.
Yet, this represents opportunity. A large paper company or a large pulp manufacturer should dive into the bitcoin world right now, establishing their own currency. With this, they could corner the market, so to speak, in worldwide pulp and paper transactions. This is a very narrow window—probably no more than 3 to 6 months wide—but an opportunity to become a world leader in the pulp and paper industry for decades to come.
Any brave souls out there?