Time for some accountability, Executives
Comment
Print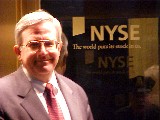 Friday, 25 Jul 14, was a particularly gruesome day in the North American pulp and paper industry. In PCA's Counce, Tennessee mill, a worker received fatal injuries in a fork truck accident. In Cedar Springs, Georgia, a worker at the G-P mill there was killed in a fork truck accident. And in Resolute's mill in Thunder Bay, Ontario, a worker was in critical condition after "being pinned by some equipment in the finishing area." Again, this all happened in the span of one simple summer Friday.

Every week on Pulp and Paper Radio International, we are reporting injuries, fires and other damage, often in North American mills, although one time in the past few months we reported the death of an employee in India, crushed by an elephant.

Where are the safety programs? We aren't out on a hunt for these accidents, they just pop up as a matter of course as we collect all the news.

The first line of defense against accidents, of course, is the mill employees and management themselves. However, these people can do little to prevent accidents if safety is not given the proper priorities at the highest levels. By the way, the "proper priorities" does not mean just issuing press releases of condolences, regrets and assurances that things will be better in the future.

I have been in monthly reviews at headquarters. Granted, it was a long time ago, but I still remember those reviews well. Further, I remember they almost never discussed safety, let alone making safety the first item on the agenda.

If you are an executive in this industry, show some leadership. At least give this subject the same priority you give to your environmental sustainability programs.

Safety begins with you.

Jim Thompson is Executive Editor of Paperitalo Publications. He can be reached by email at jthompson@taii.com.
****

---