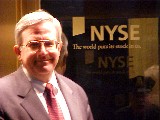 I am no stock prognosticator.  Yet, I can't help but think we are in a general stock market bubble and, additionally, that the PM40 is in a bubble as well.  Other than packaging grades, I just don't see anything on the horizon that justifies where we are.
So what would I do should someone want my opinion on the market (now that's a laugh)? 
I would look at two or three key issues.  For those who have heard me talk about project valuations, this will be familiar.
First, I would look at markets.  I would be interested in having my money in packaging grades, of course.  Tissue, I would be careful and stay away from the premium brands.  Nearly everything else I would stay out of or get out of if I were in it.
Next, I would look at assets.  In my favorite grades (see "First" above), I would pay special attention to energy sources.  Eschew anything with a coal boiler.  Either the government or the environmental activists are going to make you stop using coal, probably sooner rather than later.  This winter, energy has been a particular problem in New England.  The infrastructure isn't there to bring in the natural gas.  So, energy is the watchword.
The other assets I would carefully examine are the people.  We have a gray and balding workforce, some mills more than others.  If the average age of the professionals is over 50, one must look closer before they buy.
Finally, raw materials, or fiber.  The US Southeast is not looking inexpensive going forward when it comes to virgin wood.  The recycled fiber east of the Mississippi is largely under contract.  Growth in per capita recycling must slow from the experiences of the last twenty years.
I've focused on the negatives—the astute stock picker can deduce from this where the positives might be.  Yet, I will caution you once again, I am no stock picker.  My thoughts are merely my observations as an old guy who has been around this industry for longer than he cares to admit.
And, by the way, I don't own any pulp and paper stocks and have not in years.  I am not saying I don't own a few shares in a fund that owns some (actually, I haven't looked), but it is not my place to pick favorites for personal gain in the industry I follow so closely.

Jim Thompson is Executive Editor of Paperitalo Publications. He can be reached by email at jthompson@taii.com.
****