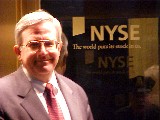 Since I last wrote to you here, I have spent 8 days in Spain.  Monumental events continue to happen in Europe, as well.
First to Spain.  Being on the tourist circuit, one tends to see only prosperity unless one presses to go off the programmed parade path.  Spain's overall unemployment rate is around 25%, with those under 25 years in age experiencing unemployment higher than 50%.  I admit I didn't see it in the sanitized places I visited in Madrid and Toledo.  By comparison, France is in great shape, with an unemployment rate of around 10%, while Germany's hovers around 5%.  However, I was in Spain last fall, and there has been almost no improvement in the economy in eight months.
Then last weekend, 25 May 14, EU Parliament elections sent the ruling class into a tailspin.  Parties variously wanting to dump the Euro, leave the EU and otherwise pursue a right wing agenda won large swathes of voters in several countries and many seats in the Parliament.   Not enough seats to sway many voting issues, but enough to be noticed and to put on notice the entrenched politicians.  Long talking of leaving the EU, it may now become a reality for Britain, the country that never adopted the Euro in the first place.
The pulp and paper industry in Europe is vibrant and important.  What happens in European elections and politics affects the European pulp and paper industry.  Matters shaking the European pulp and paper industry are large enough to affect the rest of our industry, too (think Brazilian pulp and North American wastepaper). 
Time to pay attention to what happens in Europe, folks.
Jim Thompson is Executive Editor of Paperitalo Publications. He can be reached by email at jthompson@taii.com.
****