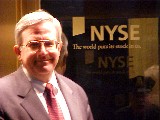 It is beginning to feel a lot like the newsprint experience in the late 1990s and early 2000s.  We are hearing of shutdowns of coated and uncoated freesheet mills all over the world.  Just listen to Pulp & Paper Radio International any Monday morning and I will guarantee you we are reporting such a story.
Twosides.us, and its associate in the UK (actually, the founder of the "twosides" concept) are doing their best to point out falsehoods and keep the industry vibrant, but they face a daunting task.  In fact, I will say that although I admire their efforts and support them, the laws of economics and the changes in technology are going to continue to take their toll on printing and writing grades across the board.
In my career, we have seen this sector of the industry (as well as others) go through tremendous consolidation and have seen the development of very large high capacity machines.  Now, we see these wonders of technology collapsing under their own weight, due to changes outside their control.  International Paper, Courtland, Alabama, is a great example of this.  IP is working diligently to close the mill on a schedule even faster than the one they announced back in September.
There is one recurring theme I have seen over forty years in this industry.  That theme is this: this industry must continue to change, ever more rapidly, to keep up with society's needs and wants.  Those who can learn to be flexible and change rapidly will thrive.  Those who do not will not.  They will die. 
Leaders, where are you taking your companies?
Jim Thompson is Executive Editor of Paperitalo Publications. He can be reached by email at jthompson@taii.com.
****