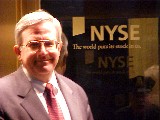 In the fall of 1973, I had just graduated from college and started my career. We experienced the first energy shock at that time. Based on the technology of the day, besides the political uncertainties associated with oil, the known reserves were looking a bit scary, too. Gas stations closed and we waited in line to buy gasoline at stations whose prices were up 75% within a month, after decades of stability.
Until the mid-1980s or later, the energy question was always one of assurance of supply, no other issues were related to energy. At the same time, reserves were barely keeping up with demand.
Later, in the 1990s, burning fossil fuels took on two avenues of concern—not only was stable supply an issue, but the words global warming crept into the vernacular. The world changed.
The energy world is about to change again, and the paradigms established over the last 15 or 20 years are not about to die easily, at least not as easily as the old paradigms were shed to bring us to the point we find ourselves in today.
First, the models used to bring global warming, now converted to the nomenclature "climate change" (which can mean anything) are seriously coming into question. It is troubling for the model builders that the world's climate is not following their assumptions. On top of this, the weather (which should never be confused with the climate) is leaving the casual observer wondering what is going on—this spring has been the second coldest one on record in the northern hemisphere (only the spring of 1975 was colder).
On top of this, it appears with modern technology, we are awash in gas, oil and other combustible liquids. Just last week, it was reported that the US Geological Survey estimates there are 7.4 billion barrels of oil, 6.7 trillion cubic feet of natural gas and 0.53 billion barrels of natural gas liquids in the Williston Basin Province in the northern US plains.
All of this taken together leaves a number of entities in a quandary. First, the environmental advocates are having an increasingly difficult time saying burning fossil fuels is bad for the environment or that fossil fuels have a short term inventory problem. Neither of these conditions is true today.
Other entities, for profit ones, are having or are going to have a problem touting alternative fuels when we are awash in cheap petroleum and natural gas. This is a problem for forest products companies counting on biomass as a fuel source or salable product.
The environmental advocates are not going to go down without a fight. They have two issues that will keep them energized—(1) many of them have a fervent, near religious belief that fossil fuels are bad for us in many ways and (2) if abundant energy and modified climate change models threaten to put them out of business, they are at a loss to figure out how to make a living—the only expertise they have is professional frightening skills.