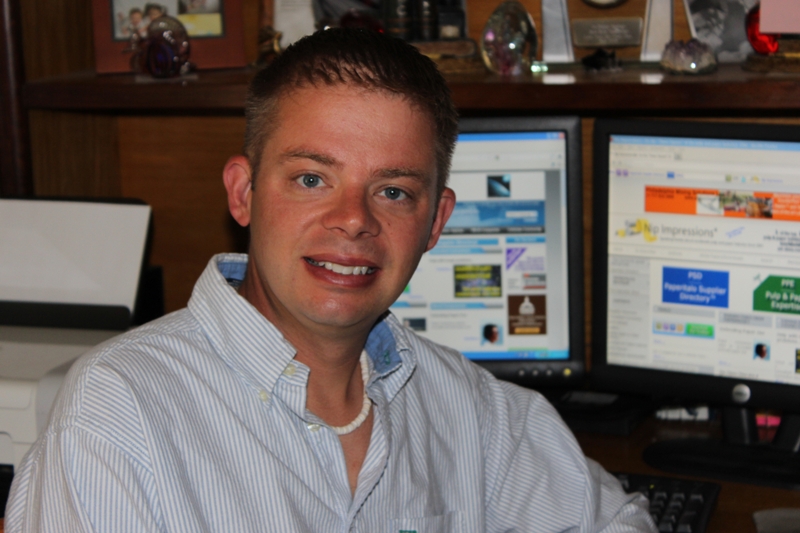 Ladies and gentlemen, Paperitalo Vice President of Communication Sciences Helen Roush and I really enjoyed spending some time on the campus of Miami University in Oxford, Ohio during the celebration of National Engineers Week.
We were able to chat with some folks in our great industry, and we were especially excited about spending some time talking to engineering students in Miami's pulp and paper program – some very bright men and women who will be soon be entering the workforce and will no doubt be leaders in the field in the near future.
While in Oxford, I had the privilege of interviewing senior Kelley McGill, who will be graduating from Miami this year with a degree in chemical engineering with a paper science focus.
And she already has a job lined up.
She'll be working for Georgia-Pacific beginning this summer at G-P's Monticello, Mississippi mill as a process engineer in the utilities and recovery area. The interview aired in the March 10th episode of Pulp & Paper Radio International, and if you didn't get a chance to listen to it, you can listen to the show and the interview in its entirety here.

During our interview, Ms. McGill said she was excited to be going into the pulp and paper industry, and told me that it's nice to know that a job is waiting for her when she graduates from college.
She said she was at the National Engineers Week Showcase to encourage others to consider the pulp and paper industry and to debunk the misconceptions that are out there.
"It's such a neat industry," Ms. McGill told me. "There are so many misconceptions and I'd like to help bust some of the myths that are out there about the paper industry, a lot of people think that we're 'killing trees,' and we're bad for the environment and causing deforestation. I want to help shed a new light on the industry."
Good for her.
A huge misconception that is prevalent in the industry is that paper is dying, or even dead.
But to paraphrase a famous quote from Mark Twain, the reports of paper's death have been greatly exaggerated.
When I was young, I remember going to the grocery store with my folks and taking glass soda bottles (I'd rather call them "pop bottles," but I lived in the U.S. South long enough to know that most of those folks don't know what "pop" is) back to the store to get back a deposit. (I'm almost 100 percent positive the college students I met at National Engineers Week have no idea what I'm talking about here…)
After we returned the bottles and finished our grocery shopping, we'd haul our groceries to the old Ford Pinto in paper bags.
Brown paper bags, as we all know, went the way of the dinosaurs and Ford Pintos – until recently.
It wasn't too long ago when my wife and I went to the grocery store and saw a stack full of paper bags located near the usual plastic bags that we've grown accustomed to over the years.
It was refreshing.
And on Jan. 1st of this year, Los Angeles, Calif. became the largest city in the U.S. to ban plastic shopping bags in grocery stores and other large retail venues that sell perishable foods.
Now a bill in the California state legislature wants to make a plastic-bag ban statewide.
Imagine that! The green folks who like to bang their drums against our noble industry are actually helping bring back the "old school" paper bag by waging war on plastic bags.
Ya gotta love it.
And then there's the story about Mohawk paper.
After years of losing revenues, Mohawk, the fourth-generation, privately-owned fine paper manufacturer based in New York's Capital Region was profiled on the front page of The Wall Street Journal Weekend, March 8-9, and the announced the creation of the new Mohawk Print Innovation Center in Albany.
As Mohawk celebrates 83 years of heritage in the Capital Region, the company was recognized by The Wall Street Journal for embracing technology, leading with innovation and creating demand for its products in order to thrive amid a dramatic shift in demand for traditional paper.
Embracing technology, leading with innovation and creating demand for its products … isn't that what it's all about?
According to The Wall Street Journal feature, 10 years ago Mohawk President Thomas D. O'Connor Jr. made an extraordinary bet, given the digital revolution that appeared ready to crumple Mohawk and every paper firm like it: His company borrowed millions to expand into the fine stationery business.
The investment is now paying off handsomely as Americans are buying more expensive stock for personalized holiday cards, announcements and photo books from online juggernauts.
Of course, there are so many other companies that are profiting from new digital habits.
As we all know, International Paper shut down its Courtland, Ala. paper mill, but over the years has bought up some corrugated box manufacturers and is doing just fine in that grade.
It makes me shed a happy tear, which is good because that helps out the tissue makers.
If you didn't hear about it on Pulp & Paper Radio International, Woodland Pulp announced this month that it will expand its pulp mill in Baileyville, Maine and install two tissue machines – adding 80 new jobs.
In so many industries, some areas struggle, but other areas rise up and flourish.
For many, many years, my job was putting out newspapers.
Today, I publish and edit news electronically only. And I don't shed a tear about that, I have the best job in the world. (And maybe you do, too.)
Paper is far from dead. (Did you hear that J.D. Irving Ltd. is investing $513 million in its mills across New Brunswick?) However, we need to always embrace technology, lead with innovation and create demand for our products.
Those who don't push forward will get left behind.
It's the nature of the beast.
Steve Roush is Managing Editor and Publisher and in charge of the International Desk at Paperitalo Publications. He can be reached by email at steve.roush@taii.com.
****