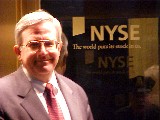 When I started this company in 1992, I chose as a business model to serve an industry in crisis.  In other words, if I could position my company's services such that they filled a need when crises were brewing, I saw that as a good place to be. After all, you don't ask the ambulance driver for the price when you are bleeding all over the highway and need to get to the hospital.
I'll hasten to say, my best long term customers have not been and are not currently in crisis.  However, the crisis model has worked well occasionally over the years.
And, once again, the industry may be in crisis.  Not necessarily because of the industry itself, but because of politicians.  The Mideast looks like it might further flair up again.  From Egypt to Syria and points east to Pakistan, this area seems as though it can never settle down.  Turkey, Libya and the Suez Canal, along with Israel, could become embroiled, too.
This makes me sad.  I know papermakers and vendors in nearly all of these countries.  They, like most of the rest of the population, are just trying to make a living, feed their families and raise their children.  
I was born in 1950, and the Mideast has been in turmoil my entire life.  Wishing it will stop does not make it stop.  However, I can assure you papermakers and vendors, no matter where you might find yourself in our great industry, across the border and across the globe, your fellow papermakers are much like you.  Don't forget that when the hotheads come around trying to stir up trouble.  We are a fraternity.
****