If the Government is Against Us, Who can be for Us?
Comment
Print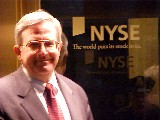 It is becoming very clear, if it was not before, that President Obama's administration has a clear goal of running up energy prices, to heck with the economy. In 2008, future Energy Secretary Steve Chu said we need to figure out how to boost the price of gasoline to the level of Europe. In testimony before Congress on 28 February 2012, Secretary Chu was asked by Rep. Alan Nunnelee (R-MS) whether it's his "overall goal to get our price" of gasoline lower. Chu said, "No, the overall goal is to decrease our dependency on oil, to build and strengthen our economy."

With this kind of rocket science thinking, we should all soon be living in caves. What is amazing is that no one has called for Chu's ouster. For 40 years, the environmentalists have worked stealthily, slowly, patiently to destroy the U.S. economy. They have nearly succeeded. Those of us who have been mumbling about this all along have been called every derogatory name in the book. But now, the day has arrived.

When I was a young man, I never felt the federal government was looking out for us, the citizens, but I never, ever dreamed it would come to this. With the attitude of this administration, look for them, if they continue in office, to do everything they can to stop the process of fracking, which has proven to be a way to provide plentiful and cheap natural gas to the country. And, of course, through Boiler MACT, they are actively working right now to shut down all the coal boilers in the country.

If you can't tell, Chu's testimony leaves me very discouraged about the long-term prospects of the United States.
---