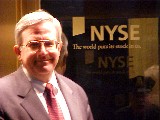 Last Thursday, the Wall Street Journal reported that American Airlines has largely completed the process of converting its pilots' logs and other paperwork from paper to iPad format.  Other airlines are under way with this process.  Other initiatives such as this are going on all over the place.  Two Sides is fighting this in many cases.  In many cases, they will not be successful.
While we applaud efforts to get people to make decisions based on facts, not emotions (see Greenpeace: Apple has the dirtiest data), we don't spend a lot of time weeping over the good old days.  Face it, some things just work better and more efficiently in electronic form.
We in the pulp and paper industry are better served when we change with the times rather than when we keep trying to preserve production from the past.  For instance, a number of old newsprint machines are being converted to linerboard and medium.  Will they all succeed?  Obviously not—mistakes will be made (I have been deeply involved in the construction of seven greenfield recycled linerboard mills in the last twenty years—I am highly interested in how the conversions will pan out).  Will they upset the markets? Maybe, we'll have to wait and see.  But the point is linerboard has a future.
Another good example is International Paper's mill at Franklin, Virginia.  After several years of being shut down, it is now making fluff pulp, a product needed as long as we make babies. 
Countless pulp mills have converted to dissolving pulp over the last few years—rayon has a future.
So bemoan the good old days if you like.  As for me and our company, we'll look to the future.  And speaking of the future, we are looking for a few good speakers for the 5th Annual Light Green Machine Institute Conference in January 2014 here in Atlanta.  Email me at jthompson@taii.com for information.
****