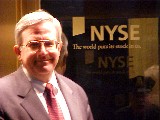 The longer I live, the more I see, the more I am convinced that many members of senior management in our industry (and I suppose others) really do live in a fantasy land. If I could possibly estimate the erroneous decisions, wishful thinking or just plain stubbornness I have seen over the years in our industry in the United States alone, I would place the cost of this waste well over $20 billion, maybe even double that.
I reach this number by just a quick accounting of the mistakes I can think of without exercising my brain too hard. These are misjudgments in markets, poor merger synergy estimates, absolutely wildly crazy capital projects and on and on and on.
What causes such aberrant behavior? After all, we assume the folks in charge are educated, rational and reasoned in their (they think) logical conclusions. In my observations, it seems like the usual culprits are two human failings that have existed since the beginning of recorded history: greed and pride. Those involved are out to line their own pockets (greed). Or those involved want to make a name for themselves.
In the course of pursuits to satiate these two weaknesses, people will ignore accounting, physics, chemistry, marketing, and what would be considered rational behavior outcomes from others (those who sell them goods and services, those who buy their goods and services.
So, you just read this. You have a slate of tasks to do today or tomorrow. List them. How many of them are based on solid business and scientific practices. Be brutally honest with yourself--no one else is looking. How many need more work, or perhaps are just wishful thinking? What are you going to do about those?
Help stomp out the thinking that leads to fantasy land.
Jim Thompson is CEO of Paperitalo Publications.
****