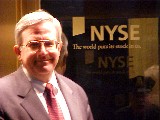 As some of you know, I write a conservative political column for a couple of newspapers in the United States. One thing that has struck me over the years is that the left often lambasts me for my pro-business stance. Many in the general population have adopted the position that for profit business is evil. The federal government seems to be perpetuating this concept.
In the 30 Aug 14 edition of The Economist, the lead story is "A Mammoth Guilt Trip." This article documents the trend in the United States, especially since 2000, to prosecute big business without trial. According to the article, Professor Brandon Garrett, of the University of Virginia Law School, has created a database of 2,163 corporate convictions and guilty pleas by big business in this time frame.
The recent and most notable of these "prosecutions" has been the August agreement with Bank of America for a settlement of USD 17 billion. For this kind of money, many of the companies in our pulp and paper industry could be purchased outright. And this was just one settlement.
The article and this author find these sorts of "prosecutions" very disturbing and for the same reasons. These are often negotiated behind closed doors; the reasons for their imposition and the willingness for the prosecuted party to agree are obscure. Additionally, since these settlements are sealed, there is no path of precedence created, a path that other corporations could then use as a guideline to their own future activities.
This leaves corporations operating in a gray area, which seems to be the government's intent--let everyone think they could receive a knock on the door and be subject to a Department of Justice shakedown any day.
All of these clandestine activities impose a double tax on commerce. The first tax is the outrageous levy imposed--somewhere this must be funded, and from business, commercial or retail customers it will be. The second is the extraordinary expenses corporations incur trying to avoid what may be only imaginary illegalities, made so by the opaqueness of the settlements.
Various entities lobby the government for relief from certain real or anticipated government activities. In most cases, PaperMoney takes the position that lobbying is a self-serving activity that does little for the common good. However, in this case, a united front, coupled with an appropriate public relations campaign, may be the path to pressuring the government to refrain from this business and economic strangling habit that does nothing to change behavior, and only serves to add a pittance, in the big picture, to the government revenue stream.
Balance and fairness are in order, this current practice provides neither.

Jim Thompson is Executive Editor of Paperitalo Publications. He can be reached by email at jthompson@taii.com.
****