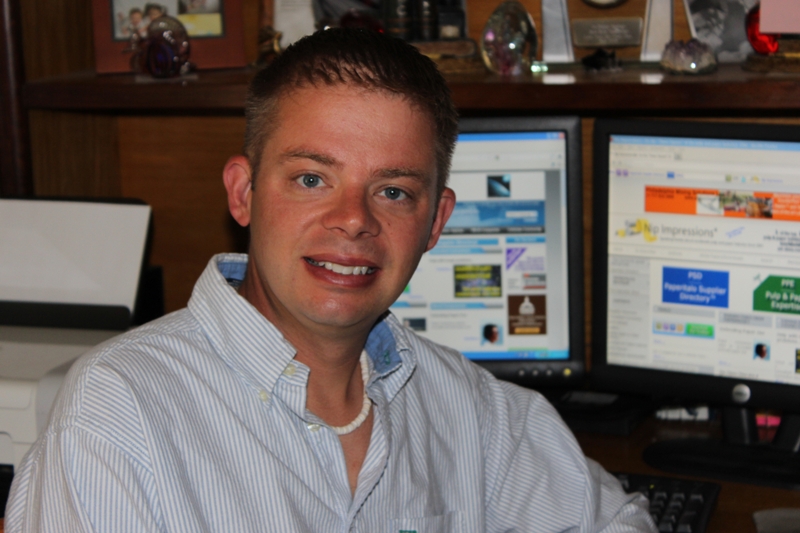 Ladies and gentlemen, the first class of inductees to the Paper Industry International Hall of Fame in Appleton, Wisconsin was inducted more than two decades ago in 1995, and today, more than 150 papermaking innovators and legends have been enshrined. This month, we profile the late Tad Bretting, who was president and CEO of C.G. Bretting Manufacturing Company in Ashland, Wisconsin, who was inducted into the Hall of Fame in 1999.
H. Lyman (Tad) Bretting was born in Ashland, Wisconsin, on June 24, 1936. Following his graduation from high school, he attended the University of Notre Dame, where he earned a degree in business in 1958. Following in his father's footsteps, he joined the family manufacturing company, which was founded by his grandfather, C. G. Bretting.
Established in 1890, C.G. Bretting Manufacturing Company originally built and repaired sawmill equipment. In 1930, Lyreart Bretting, Tad's father, built the first four-web vacuum napkin folder. It was in 1960 that Tad Bretting saw a need in the paper converting industry and the company began to create machinery that revolutionized tissue products as we know them today. Many of the converting processes were labor intensive, which made tissue products relatively expensive. Mr. Bretting saw opportunities in the then emerging fast food industry for dispenser napkins. He also recognized the increased numbers in the work force and foresaw the requirement for additional hand towels to meet wash room demands. The processes by which these products were converted at that time were not efficient and could not meet the growing demands.
Mr. Bretting pioneered modern converting machinery and led his company into a worldwide leadership role. With his vision of growth for tissue and his leadership skills, he grew the company from sales of $120,000 per year with 11 employees to over $70,000,000, with nearly 500 employees today.
Early in his career, Mr. Bretting visited many tissue converters and learned first hand the challenges they faced. As a small company, Bretting employees -- including Mr. Bretting -- had to wear many hats.
He assisted in the design, machine assembly, and installation of the early machines. He continually reinvested in the company, putting dollars into technology that could solve problems. The Brettings designed and built machines made converting much faster and less expensive, thereby allowing for development of new products. Mr. Bretting's vision had a direct impact on the increased per capita usage of tissue products world wide.
Bretting machines fit a multitude of applications. Mr. Bretting directed the development of machines to fit small converters as well as the very largest. Bretting machines are built to produce efficiently with minimal waste. The machines are easily utilized on recycled products and can employ printing methods that are environmentally clean.
Far beyond the machinery developed by Bretting Manufacturing is the commitment to keeping a customer satisfied, a standard set by Mr. Bretting, which is unequaled in the industry today. His key contribution to the paper industry is the assurance that he gave to those who put their faith in him that his work was good and that he would be there in the event of a problem. He has never compromised that commitment.
Mr. Bretting's leadership wasn't restricted to the company. He worked unselfishly and tirelessly for his community. Ashland, a traditional mining and logging town, has suffered periods of economic depression. Through Mr. Bretting's entrepreneurial vision and leadership, many good jobs were created. He gave generously to the community, and many local charities receive funding they need to meet their objectives.
In 1989, Mr. Bretting received both the Wisconsin Small Business Person of the Year award and the United States Small Business Person of the Year.
He served as chairman of the board of directors of M&I National Bank of Ashland; member of the board of directors of Northern States Power; vice president and director of Ashland Foundation Board; former coach and an originator of Ashland Little League Baseball; past board member of Wisconsin State Chamber of Commerce; former trustee of Northland College of Ashland; past president of Ashland Area Chamber of Commerce; former director of First American National Bank of Wausau; and past board member of St. Joseph's Hospital.
Mr. Bretting and his wife, Barbara, raised five children, four of whom represent the fourth generation working for C.G. Bretting Manufacturing. In his leisure time, Mr. Bretting enjoyed hunting, fishing, and golfing. Mr. Bretting died in 2003.
Steve Roush is Vice President, Publisher and Editor and in charge of the International Desk at Paperitalo Publications. Many thanks go to the Paper Industry International Hall of Fame, Inc., for biographical information on Hall of Fame inductees.