What is different about this year in the pulp and paper industry?
Print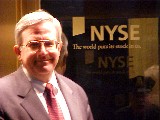 Several things come to mind. The US corporate income tax reduction will have implications beyond our normal thinking ability. Will this bring manufacturers back to the United States? It seems like it will. Necessarily, their packaging requirements will follow.

China has been changing the rules for importation of recycled fiber. This has caused perturbations in the recycled fiber market. Are they over?

The largest envelope maker in the United States has just declared bankruptcy (again--other organizations of the same manufacturing assets have done so before).

On line shopping has created an insatiable demand for boxes. Is this trend reaching maturity or will the growth continue for a number of years? We don't know, but would bet on growth continuing.

I am old enough to have lived through the years of patent growth driving the tissue markets (roughly the '70's and early '80's). That spurt benefited the big players, but when the patents ran out, the markets opened up for everyone to make tougher more absorbent tissue.

Is someone secretly working in a lab somewhere to make a better box and upend the corrugated container market? Who knows, but it would not be surprising if they are.

Every year in our "tired, old industry" I think there surely can't be anything new this year. And for 48 years, I have been proven wrong. Welcome to 2018.

Jim Thompson is CEO of Paperitalo Publications.

****

---